Eye Examinations
Spectralis®
… is an imaging platform used to make diagnostic and treatment decisions. The device provides good contrast and high resolution images from both the anterior and posterior of the eye. New modules are added to keep up with technical developments and offer doctors more effective and innovative diagnostic options.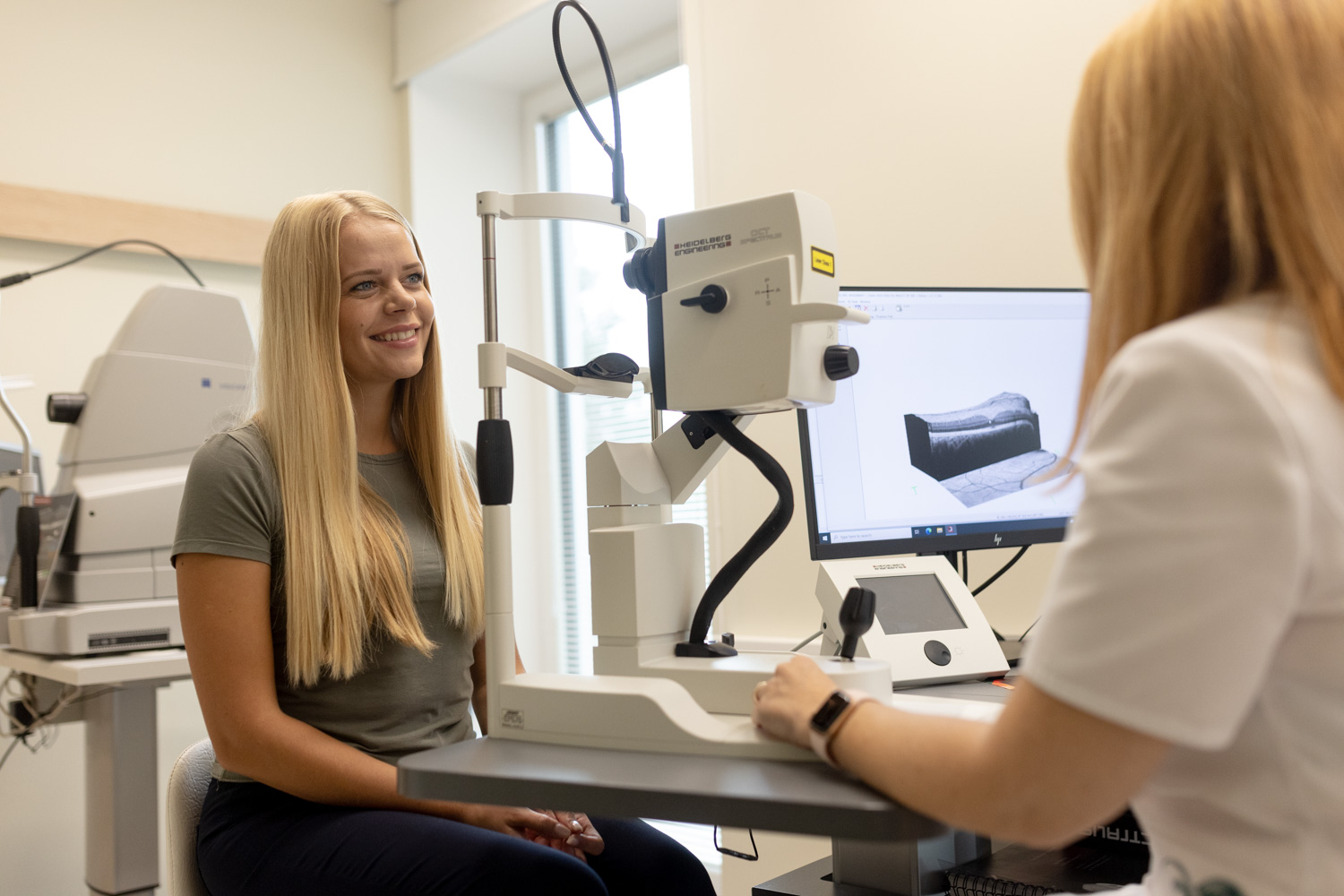 Anterior Eye Module
provides an overview of the corneal layers and anterior chamber. The width of the cornea and the measure of the anterior chamber angle provide relevant additional information in the diagnosis of glaucoma.
OCT-Angiography
is the latest module allowing us to examine blood vessels without injecting a contrast agent. It is particularly suitable for allergic patients to avoid possible complications of fluorescein angiography.
OCT Module
The new generation of eye fundus computed tomography has the advantage of faster imaging speed and sharper image quality, which highlights retinal layers and their changes. Pupil size will not be affected during this examination.
Glaucoma Module
is the new generation of glaucoma diagnostics. Measuring the width of the optic nerve disc, retinal nerve fibers, and the layer of ganglion cells is important in diagnosing glaucoma and monitoring the course of the disease.
The instrument is able to measure the exact same location as in the previous study in subsequent examinations and to perform a comparative analysis of the anatomical structures on the basis of the information obtained. In addition, patient data can be compared to a statistical average.
Multicolor Module
uses three laser wavelengths in parallel to detect different structures at different depths in the retina. The method allows us to visualize changes that cannot be seen with normal fundus examination or images. The described module can be used in imaging when the patient has cataracts or nystagmus.
BluePeak Module
indicates blue laser autofluorescence images. The non-invasive laser method for imaging of the eye fundus, reveals traces of retinal metabolic stress using lipofuscin as an indicator. The method highlights changes in retinal pigment-epithelial cells, such as age-related macular degeneration of the eye fundus and its hereditary changes.
Multicolor, OCT, OCT Angiography, and BluePeak modules provide a wider imaging range than older devices. Thus, they allow more peripheral areas of the fundus to be photographed and documented.